Everyone would dream about living a surfing life dream but few dare to try it in real life. What is really like to pursue a real surfing life we ask Elena, who after finishing her university in Madrid went to work and live in board sports paradise – Fuerteventura.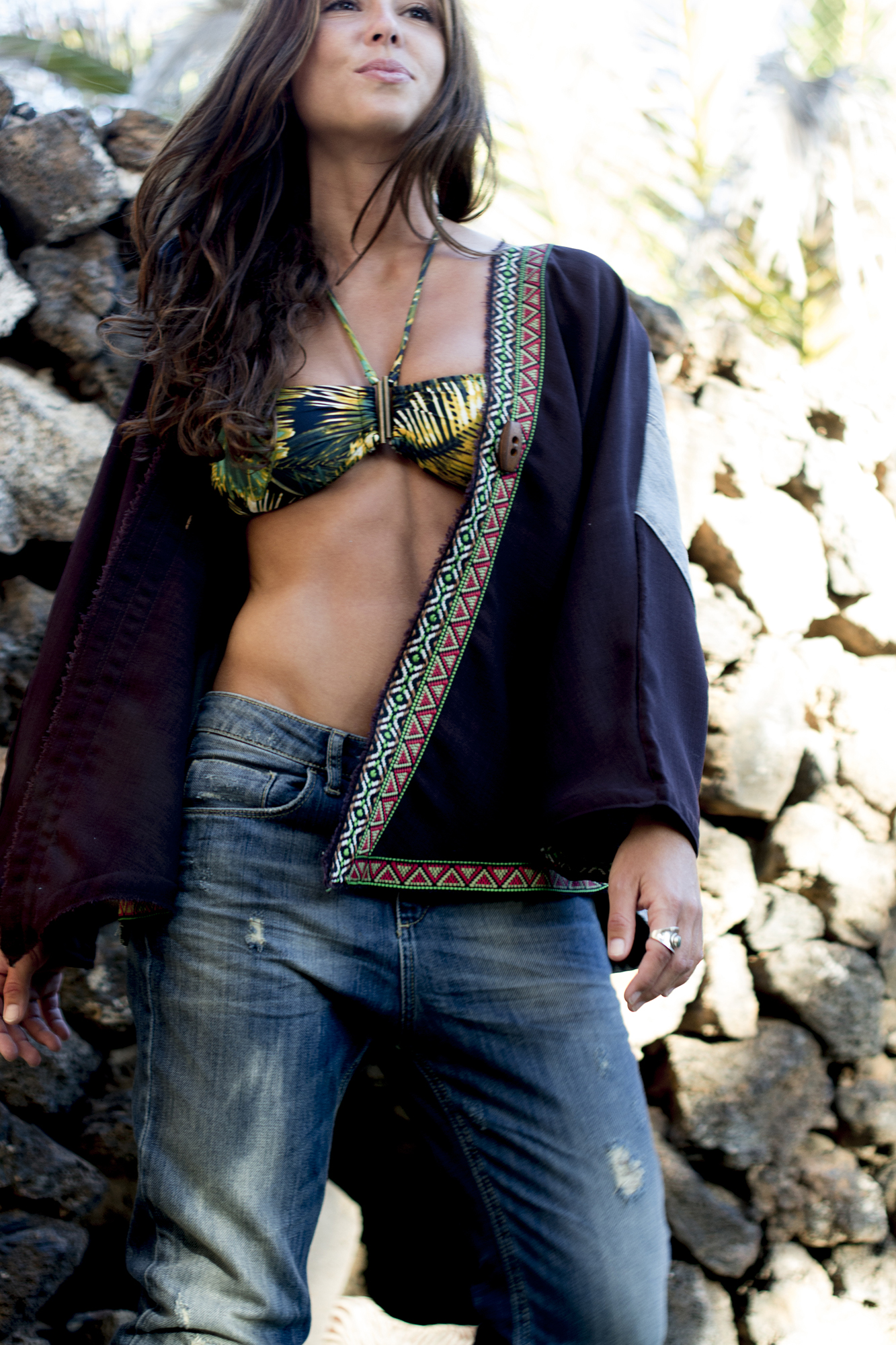 Do you think you escaped a regular corporate career in a big city or it has been your plan for life since ever?
I actually started a corporate career in Madrid and afterwards I continued developing it in Antwerp. I worked really hard for five years, living amongst meetings, offices, laptops, deadlines and walls. I could say that I was very good at it, got promoted in every job pretty soon and reached every goal I pursued. I am a really intense person and everything I do, I do it with a lot of passion. I felt highly valued and appreciated at all times but there was constantly something missing. I wouldn't say that I was sad but there was always a nostalgia feeling blurring my daily life.
Last year, I went on holidays to Fuerteventura for fifteen days. The island has a gigantic captivating effect that showed me I was, somehow, missing my life. I went back to Antwerp and had hard fights with myself, my fears, my ego and my values structure. Eventually I quite my job, sold all my furniture and pack to Fuerteventura. It was not an easy decision at all but I do not regret it, not even for a single second.
Describe the best emotion you experience when riding a wave? Something that keeps people in the water trying to catch the wave even when cold and cloudy.
Yesterday, after work, I went to catch some waves. There were only three people in the water, the sun slowly disappearing behind the volcanoes and dunes, pink clouds around the full moon, the water softly rocking me and my surfboard and all of a sudden, a flock of seagulls flying just some centimetres over the sea… I was feeling the luckiest girl on Earth, smiling like a child and having an indescribable feeling of internal peace. After that, the wave came, strong but slow one, riding it down and bending my knees to gain some speed, doing a front bottom turn and touching the wave with my fingers flowing in it. In those moments, there is a giant connexion that makes you feel humbly big and small at the same time.
Seems that everyone knows but please explain why Fuerteventura is not yet another holiday destination but as famous for surfing as California?
Fuerteventura is a wild place, with dirt roads where finding a wave sometimes becomes an off-road adventure. It is an island with a tremendous energy, authentic essence and an unstoppable treat for the eyes. Surfing here requires a search and it has definitely become a culture. You need to learn to read the tides, the wind, the sea and the sky to choose where to drive, where you want to surf. It is the whole experience that makes it so unique, far from crowded holiday destinations.
What was the most surprising thing when you arrived here for good, something you have imagined differently before?
Every day in Fuerteventura you can meet really deep, interesting and smart people who are wearing flip-flops, a pair of old swim-shorts and some salt on their eyebrows. There is everywhere this unprejudiced atmosphere that manages to bring out the best of people and teaches you about simplicity, humility and happiness in the end. You can feel absolutely fulfilled, personally and professionally, learning those things that books and degrees don't explain. I never had again that "Monday again" feeling or the nostalgia blurring my days. Of course, I have good and bad moments here but when you love your life so much, the bad ones turn out really easy to cope with.
What is a daily routine on the island like – the friends, the work, all the everyday stuff? Is it for everyone or you need to be a true surfer, rebellious personality?
I am currently working for a company that organizes tours in catamaran to Lobos Island, a great paradise located two kilometres north of Fuerteventura. The company is called Ocean People, an engaging name that made me apply for that job as I consider now myself someone who wouldn't be able to live far from the sea. After work, there is always time for surfing, a walk with my dog on a volcano, a barbecue, a jam-session or just some drinks with friends on a terrace or in front of the beach. It is a really simple life and I guess that only those ones who fall in love with the island and the sea can enjoy this as much as I do, without missing at all the amenities from a city.
Do you aim to surf a tiny shortboard and excel as a team rider or you are just enjoying yourself on the water and don't care much?
I just want to enjoy every single wave I ride without any kind of pressure. The more I surf, the better I become but I just aim for those feelings I describe above. When I first came to Fuerteventura, I drew a picture that says "My pace amongst the waves". Back then, I was a very beginner but something inside myself had already woken up. After a surf session all my worries are translated into solutions and I manage to find my inner balance, that one that brings the most sincere and simple happiness.
Surf culture gives so much opportunities for photography and video making or even fashion making and generally lifestyle products – do you consider getting more into these topics?
Actually, I have recently collaborated with three fashion brands from Fuerteventura: Cotton´s waves, Pulaumi and Genuine Myself. I had never done a photo-shooting before and always thought that I was too shy for that. However, they are people gifted with special vibes and gratefulness that makes you feel at home. No make up, no studios and natural manners. I absolutely admire their job and dedication; and as I said before, the energy from this island brings out the best of us. Fuerteventura gives you space, inspiration and time for creativity.
What is you advice to the people who would like to start their adventure with surfing?
Enjoy and learn from every single wave you ride. Be humble. Do not fear the sea but respect it at all times. Trust yourself because you can do it. Feel the peace, the energy and the power of water. Be proud of yourself. Do not rush or miss steps, choose a good surfboard, listen to pieces of advice from other surfers, look at their moves, get to understand the tide, the wind, the effect of your body and movements on the surfboard. Take it easy. Relax. And breathe, always breathe!
Pictures: